Gas Fitting / Gas Leak Detection Services
Leak Detection for Furnaces, Boilers & Hot Water Systems
When it comes to household plumbing issues, nothing is quite as stressful as a gas leak. Every homeowner knows that leaking natural gas has the potential to cause a fire or explosion, and that rapid action is required to keep everyone in the home safe. It's crucial to call for gas line leak repair as soon as possible.
Fix It Right Plumbing & Heating is always available for gas leak detection in Stony Plain, Spruce Grove, Parkland County, and surrounding areas.
If you suspect a gas leak, or smell gas, contact the emergency line of your gas provider first.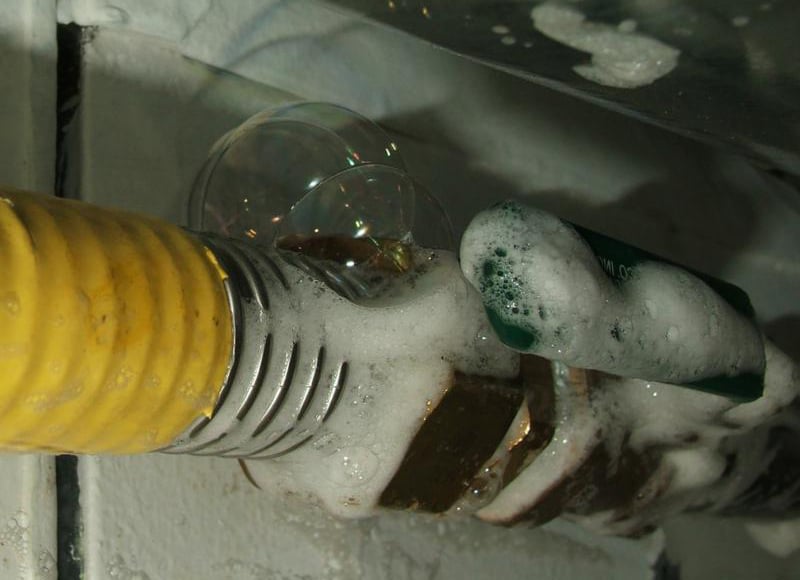 Since a gas leak is such a serious event, gas companies typically include an additive that makes it smell like sulfur or rotten eggs so that it's easy to detect. On its own, natural gas is odorless, so the additive is important to alert homeowners of what is going on. If you ever smell that rotten egg odor, call for help right away.
Be sure to also watch for these other signs of a natural gas leak:
Hissing sounds near your gas line
Dead or dying plants
Physical symptoms including headaches, dizziness, nausea & breathing problems
Higher than normal gas usage
What Should I Do If I Suspect a Gas Leak?
We offer gas leak detection but your first call should always be the local gas company if you smell gas. If you believe there to be a gas leak in or around your home, getting out of the house with your family should be your first priority, then call your local gas company.
Fix it Right Plumbing and Heating can test for gas leaks as a part of your regular home maintenance, before buying a home, or if you believe you have a leak. Once tested, we can do all the repairs if a leak is detected.
Very quick and easy to deal with. True professionals with excellent service and communication. Our new go to company for stony plain and spruce grove areas

Don
Excellent work and very professional. I'm very happy with my new furnace!!! If you hire this company you will not regret it!

Scott Crichton
We just got a new furnace with a/c installed and had no problems. Best price great service crew had all my questions answered and all my expectations met. Everything done right

Donna Corbin
Jason was amazing. We've been struggling with some plumbing issues for quite some time. Jason got things fixed in a timely fashion and was able to make recommendations on some other plumbing projects we are considering. We would definitely recommend Jason, he knows his stuff.

Tracy Shanmugan
I chose Fix it Right Plumbing and Heating Ltd., based solely on their Google reviews and they did not disappoint. They were very prompt, very professional and very knowledgeable. I couldn't have been happier.

Headquartered in neighboring Stony Plain, made for a very quick response and they immediately got to work on solving my leaking bathtub faucet. Service rates are extremely reasonable.

Strongly recommend you choose Fix it Right for all your residential plumbing and heating.

Drayman
This company was fantastic to use, the tech was professional with us, and had a fast response time. We will use Fix it Right for any other possible issues that come our way!

Tim Douglas
Professional, quick to respond and remedy. Thank you for your excellent work!

Lorraine Northcott
Amazing service! First off it was Easter Sunday during the pandemic and our furnace decided to stop working. Jason was extremely prompt and had us up and going in no time without it costing an arm and a leg. Will be a forever customer!

Megean Goodman
The team at Fix it Right plumbing was prompt in their service. Our washing machine wasn't draining properly and they were able to come and see us the next day and fix the problem in under an hour. Rates were very reasonable and best of all my wife is happy.

Dean Chapman
Fix it Right is the most honest plumbing company you will find. They have amazing service and will not try to upsell you when you don't need it. Jason got my hot water tank working and I didn't need a new one! So appreciate the awesome service!!

Tanya Northfield
Very friendly and happy, you could tell they love their job. I'll be using them again if I need to.

DJ
We won't be using any other Plumbing and Heating Company for our services. We are very happy with the service from start to finish. Everyone we had contact with was super friendly.

Sharon Sawatzky
We have used Fix It Right several times now for emergency calls and they have arrived very quickly each time. Excellent service and extremely nice people!

Dara Choy
We have used them twice now, they have been quick, friendly and reasonably priced. The plumbers that came out were both fantastic and fixed the issue right away with no follow up issues.
Will definitely continue to use and recommend this company.

Justina Bellows
Best experience I have ever had with any service I have used. They are friendly and treated us like human beings and not just a paycheck. They have been honest and sincere in assessing the situation and I truly feel they gave advice that was in my best interest and not just their own. I recommend Fix it Right for any plumbing and heating needs in Stony Plain and the surrounding area.

Tyler Fetch
There is a reason these folks are 5 star rated. My furnace stopped working when it was -40. I got a hold of Jason from Fix it Right at 7:30 in the morning. Unfortunately at that time they were fully booked for the day but he didn't want to see my house freeze up so he gave me some things to try when I explained the problem. The things he suggested worked! and I had heat again. To top it off... they called me back as they had made some room for an appointment later in the day. The issue was fixed, but they kept my appointment open just in case there were any further problems. Wow what service. Would I recommend them? Absolutely. When you find a company and staff that cares like these guys do, they are now my go to plumbing and heating people. Thanks!

Richard Corry
I cannot say enough for the excellent service they provide each and every time. They are super busy because they are that good and would never call anyone else. They are top notch in emergency situations and always accommodate. They make you feel like you are family and don't leave unless you are completely happy with their service. Thanks Jason to you and your wonderful staff.

Anita Komher