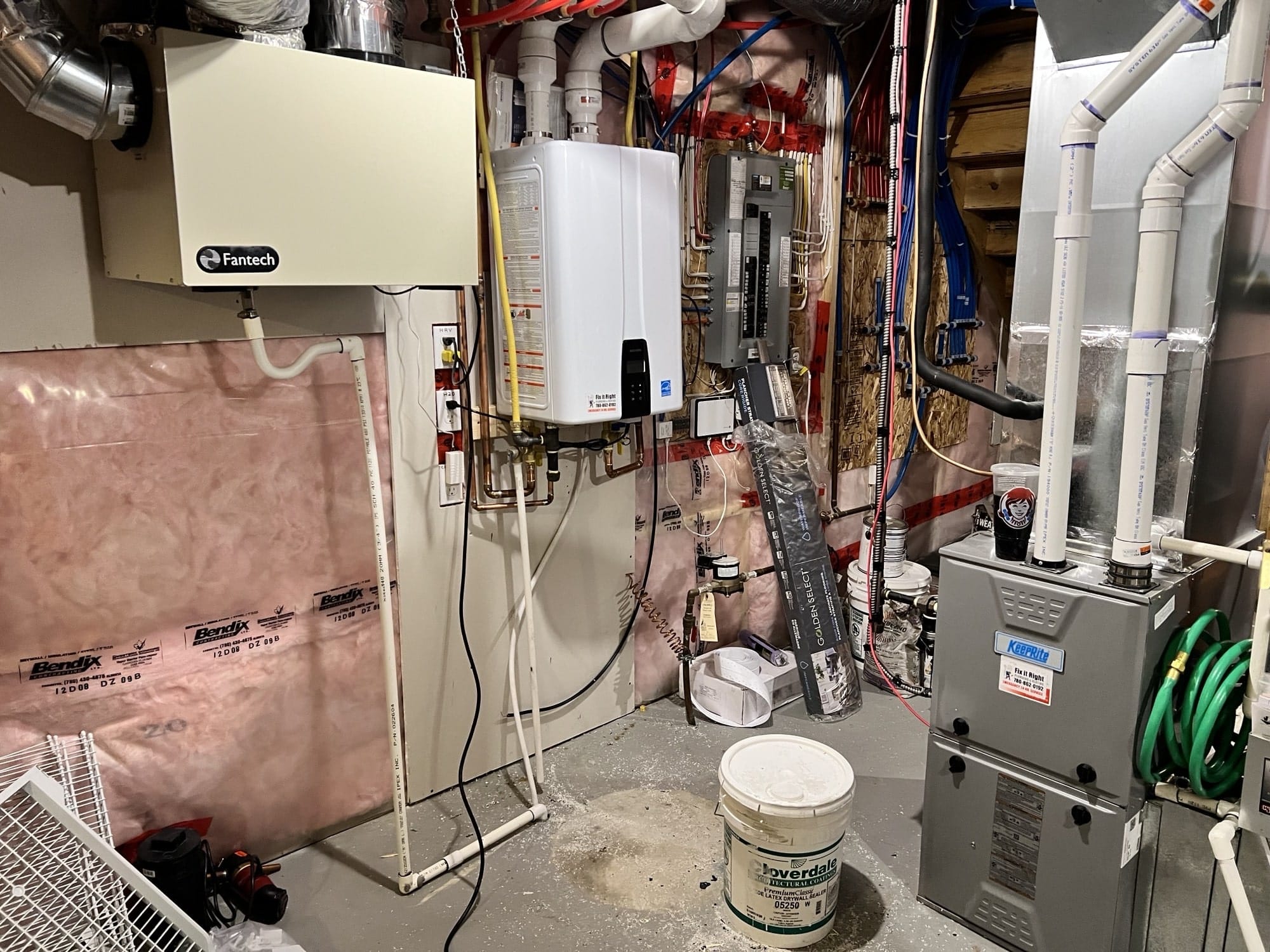 Some of the Plumbing Services We Offer
Hot Water Tank Repair & Replacement
Tankless Hot Water Installation & Repair
Tap Repair & Replacement
Toilet Repair & Replacement
Drain Cleaning
Water Pipe Leaks
Hose Bibb Repair & Replacement
Backflow Preventer
Sump Pumps
Financing Available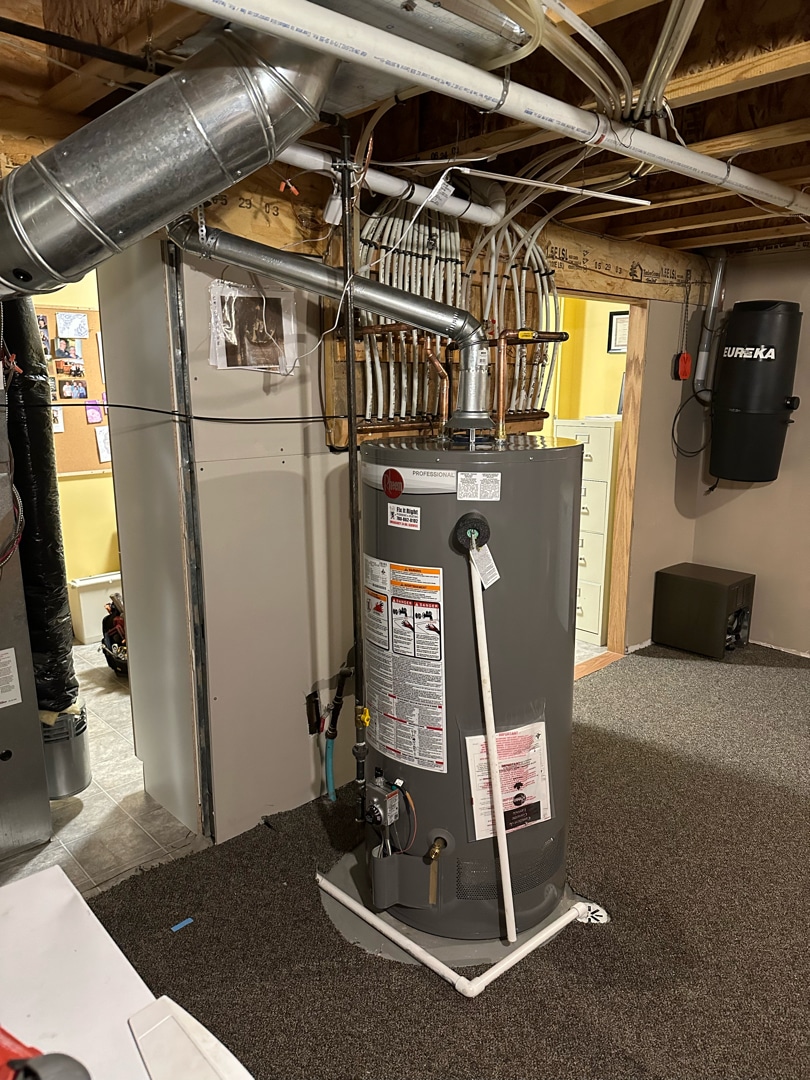 New hot water tank install
When Does High Water Pressure Require a Plumber?
High water pressure is not necessarily a plumbing emergency, but it is one of many ways you can improve the environmental impact and efficiency of your home – along with its value! Also referred to as "pressure reducing valves," water pressure regulators can help save you money by reducing the amount of energy a plumbing system expends wasting water by using too much pressure.
Reasons To Get A Pressure Reducing Valve For Your Home:
You want to save money by using less water
You want to improve the energy efficiency of your house
You want to protect your home's plumbing system from unnecessary wear and tear
"Why Are My Water Pipes Making Weird Sounds?"
If your water pipes are making weird noises (such as banging, hammering, or knocking), it may be time to call a plumber. Sounds like those are commonly called "water hammering," and could be the indication of a faulty faucet or valve. Without the help of a professional, it may be impossible to identify the source of the problem, but before you pick up the phone, there are a few ways you can troubleshoot water hammer sounds:
Investigate all visible pipes. Do any of them rattle when water passes through?

Do any of the pipes seem like they are loose?

Feel around the connections. Check and see if you can find any missing or loose pipe straps. Pay special attention to T and elbow fittings
In certain cases, pipes can make hammering or banging sounds because they're too close to a wall or floor. In these situations, try placing a piece of rubber or wood between the pipe and opposing surface, as this can often be an inexpensive cure to the annoyance. If you are unable to locate and repair the actual source of the problem, we recommend scheduling a maintenance appointment. 780-862-0192
Expert Plumbing Services, Ready When You Need Them
Our standard operating hours are Monday through Friday, 8 AM to 5 PM. Emergency Services are available 365-days a year, 24 hours a day.

If you have an emergency, please call us right away at


780-862-0192.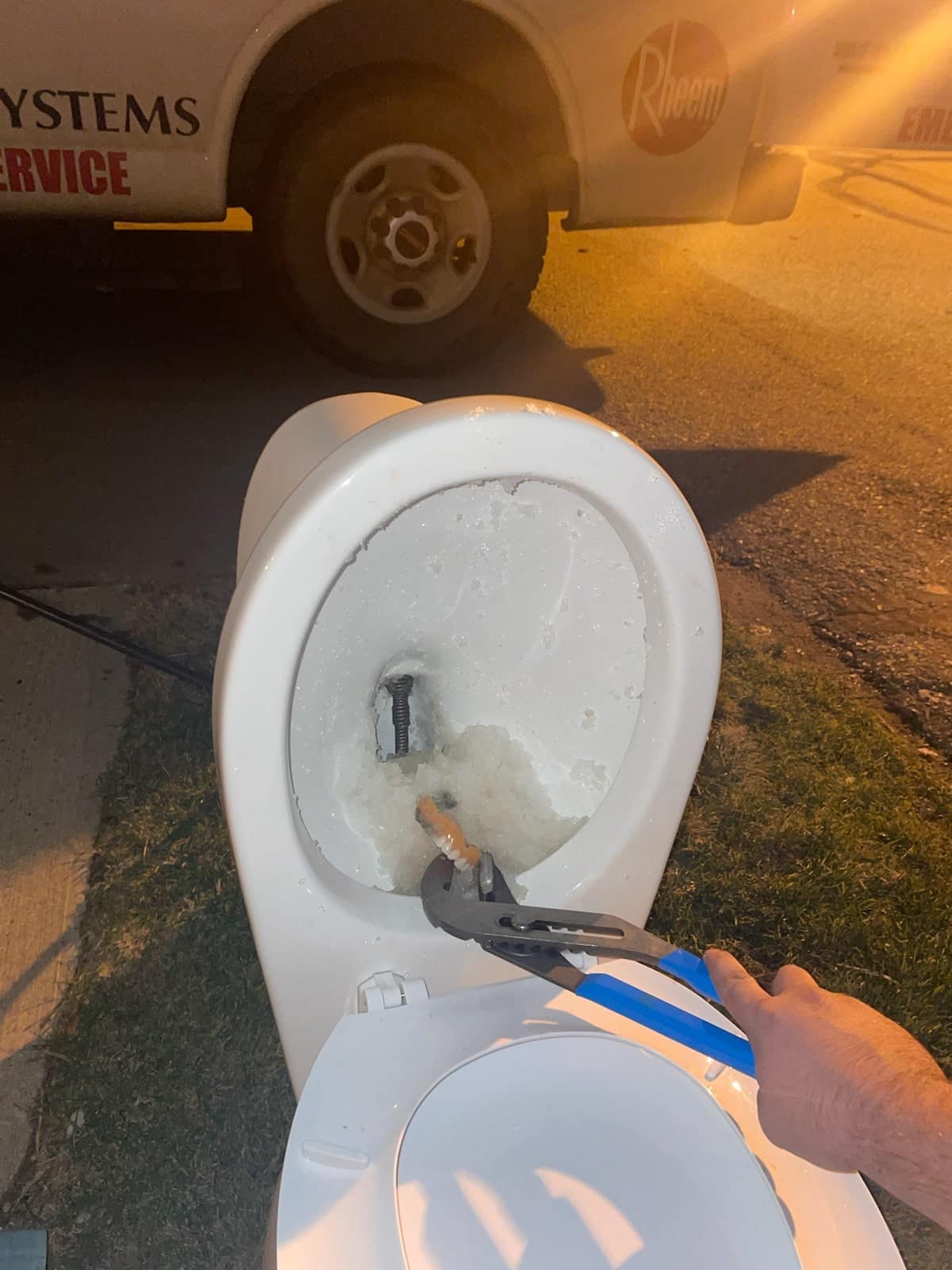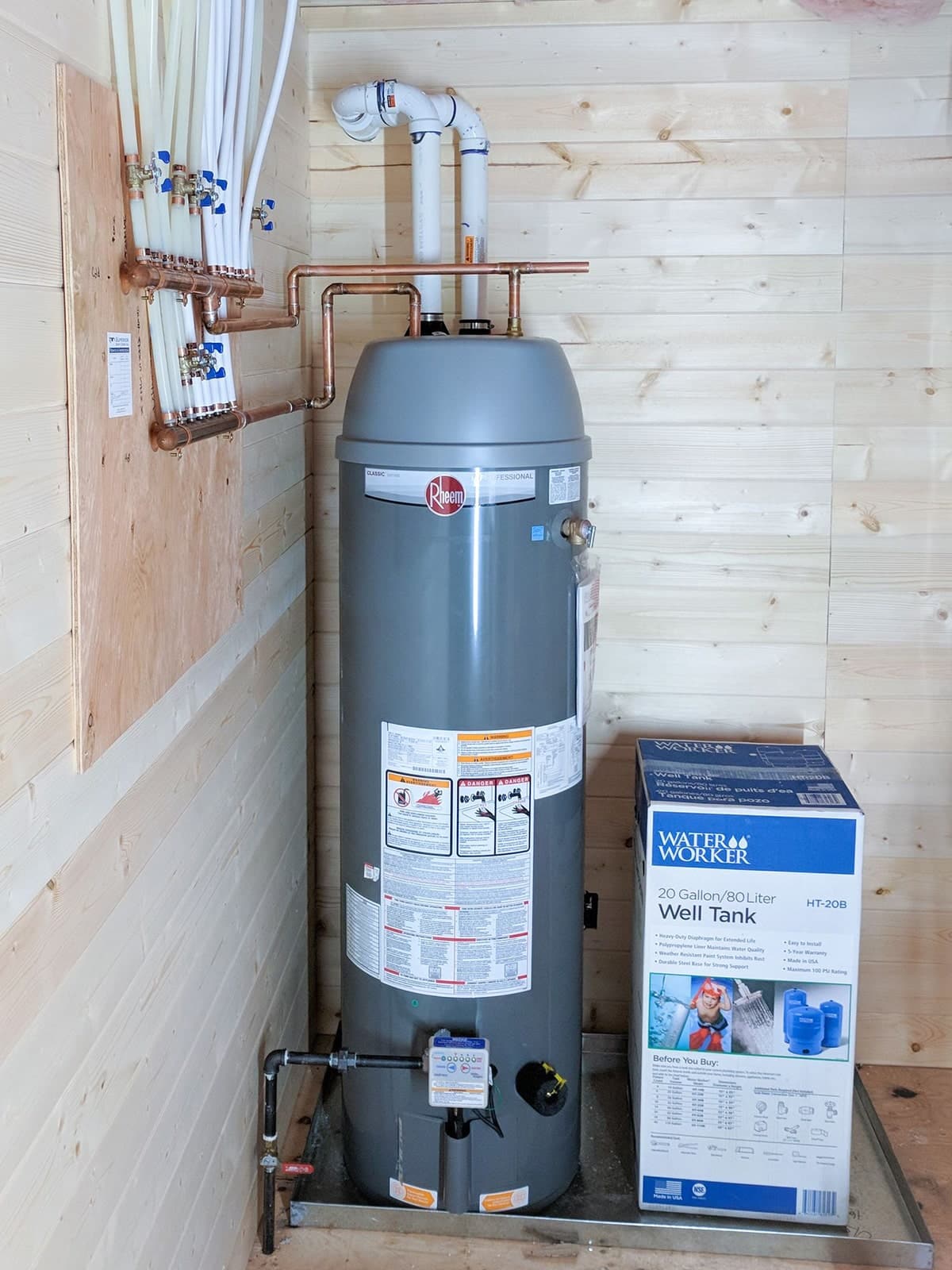 Rheem Hot Water Tank Installation
They were friendly and helpful over the phone, very responsive and we're able to troubleshoot and fix issues quickly! Great rates and friendly, professional technicians! Highly recommend as they will be the only company my family will use!

Crystal Plante
Very quick and easy to deal with. True professionals with excellent service and communication. Our new go to company for stony plain and spruce grove areas

Don
Excellent work and very professional. I'm very happy with my new furnace!!! If you hire this company you will not regret it!

Scott Crichton
We just got a new furnace with a/c installed and had no problems. Best price great service crew had all my questions answered and all my expectations met. Everything done right

Donna Corbin
Jason was amazing. We've been struggling with some plumbing issues for quite some time. Jason got things fixed in a timely fashion and was able to make recommendations on some other plumbing projects we are considering. We would definitely recommend Jason, he knows his stuff.

Tracy Shanmugan
I chose Fix it Right Plumbing and Heating Ltd., based solely on their Google reviews and they did not disappoint. They were very prompt, very professional and very knowledgeable. I couldn't have been happier.

Headquartered in neighboring Stony Plain, made for a very quick response and they immediately got to work on solving my leaking bathtub faucet. Service rates are extremely reasonable.

Strongly recommend you choose Fix it Right for all your residential plumbing and heating.

Drayman
This company was fantastic to use, the tech was professional with us, and had a fast response time. We will use Fix it Right for any other possible issues that come our way!

Tim Douglas
Professional, quick to respond and remedy. Thank you for your excellent work!

Lorraine Northcott
Amazing service! First off it was Easter Sunday during the pandemic and our furnace decided to stop working. Jason was extremely prompt and had us up and going in no time without it costing an arm and a leg. Will be a forever customer!

Megean Goodman
The team at Fix it Right plumbing was prompt in their service. Our washing machine wasn't draining properly and they were able to come and see us the next day and fix the problem in under an hour. Rates were very reasonable and best of all my wife is happy.

Dean Chapman
Fix it Right is the most honest plumbing company you will find. They have amazing service and will not try to upsell you when you don't need it. Jason got my hot water tank working and I didn't need a new one! So appreciate the awesome service!!

Tanya Northfield
Very friendly and happy, you could tell they love their job. I'll be using them again if I need to.

DJ
We won't be using any other Plumbing and Heating Company for our services. We are very happy with the service from start to finish. Everyone we had contact with was super friendly.

Sharon Sawatzky
We have used Fix It Right several times now for emergency calls and they have arrived very quickly each time. Excellent service and extremely nice people!

Dara Choy
We have used them twice now, they have been quick, friendly and reasonably priced. The plumbers that came out were both fantastic and fixed the issue right away with no follow up issues.
Will definitely continue to use and recommend this company.

Justina Bellows
Best experience I have ever had with any service I have used. They are friendly and treated us like human beings and not just a paycheck. They have been honest and sincere in assessing the situation and I truly feel they gave advice that was in my best interest and not just their own. I recommend Fix it Right for any plumbing and heating needs in Stony Plain and the surrounding area.

Tyler Fetch
There is a reason these folks are 5 star rated. My furnace stopped working when it was -40. I got a hold of Jason from Fix it Right at 7:30 in the morning. Unfortunately at that time they were fully booked for the day but he didn't want to see my house freeze up so he gave me some things to try when I explained the problem. The things he suggested worked! and I had heat again. To top it off... they called me back as they had made some room for an appointment later in the day. The issue was fixed, but they kept my appointment open just in case there were any further problems. Wow what service. Would I recommend them? Absolutely. When you find a company and staff that cares like these guys do, they are now my go to plumbing and heating people. Thanks!

Richard Corry
I cannot say enough for the excellent service they provide each and every time. They are super busy because they are that good and would never call anyone else. They are top notch in emergency situations and always accommodate. They make you feel like you are family and don't leave unless you are completely happy with their service. Thanks Jason to you and your wonderful staff.

Anita Komher